The Malila New Testament was launched at an event in Ilembo, Tanzania, on Saturday 5 September. For the Malila, the launch of their New Testament was exciting and will reach across the generations.
One church leader said: 'It will draw Christians in church to understand the Bible in their language. Because when you speak Swahili with them they don't understand, but when you speak Malila they do. Even the elderly, they love to listen [when it's in Malila].'
This was a day the Malila had long anticipated, as the translation work began in 2003. Recently, Majaliwa Mwangwale, who is Literacy and Scripture Engagement Coordinator for the Malila Bible Translation Team, visited Pastor Ruben Mwasile in Itawa. When Pastor Ruben heard that the Malila New Testament would arrive soon, he exclaimed, 'I'm receiving this news with a joyful heart. When the time comes, please let me be the first one to buy and use a copy of the Malila New Testament. Because we were able to use Bibles in other languages and saw God, it is my hope that when we use the Bible written in our own language, the people in our congregations will know God with their whole hearts and be changed by it.'
Another pastor whom Majaliwa visited, Pastor Mikael Mwaigaga from Sanyesya, had said, 'I'm very happy to hear about the coming of the New Testament in our language. In my mind I didn't expect that we Malila people would get a Bible translated into our language. So this is a big miracle for us! I'm ready to buy my copy. My church is ready to receive and use it."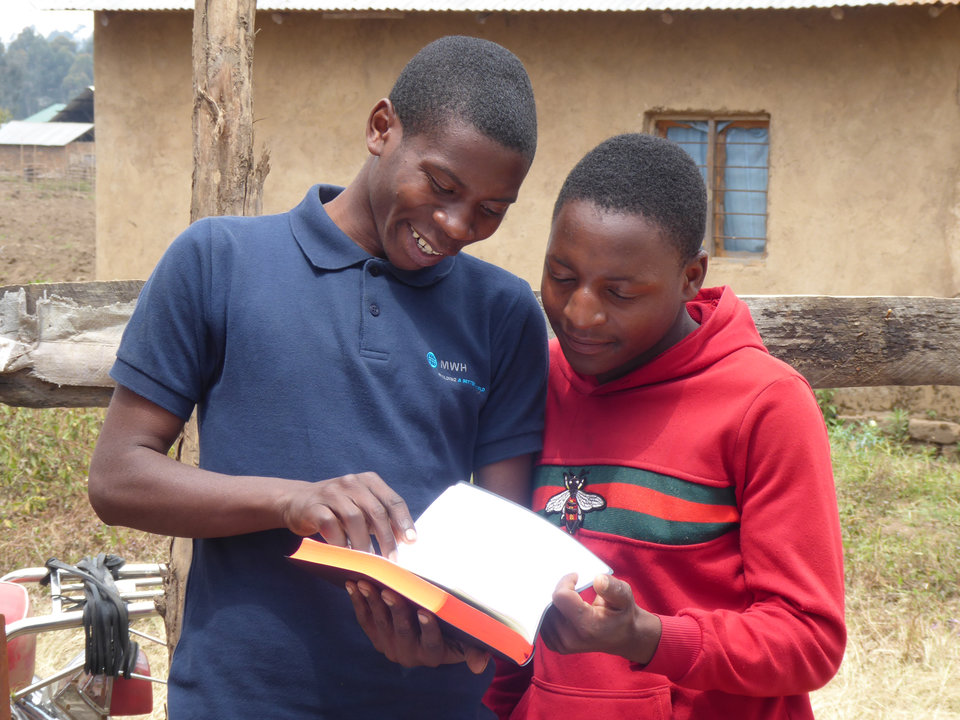 Two young Malila speakers read their New Testament
The launch event was attended by over 100 people from the Malila language group, along with local dignitaries, church leaders, visitors from outside the region, and staff from Wycliffe Bible Translators who work alongside the Malila Bible translation team.
There were lively processions, songs in the Malila language sung by local church choirs, speeches, and plenty of excellent food. Katherine O'Donnell, who serves with Wycliffe Bible Translators in Tanzania, said: 'The highlight was when we all went outside and, led by the translators holding a box of Malila New Testaments wrapped in shiny paper with a big bow, we processed back into the church, waving branches and cooking utensils, and singing. The box was taken to the front, opened and then they prayed. Although some New Testaments were sold there and then, it is our hope that many more will be sold as word spreads. More importantly, it is my prayer that they will be read or listened to by both young and old, who will grow to know God better as a result.'
The excitement and the sense of reaching the whole community through the Malila New Testament was palpable. One church leader commented: 'I feel very happy. If I preach in Malila, I feel great joy. I try to persuade the young adults to preach to the elderly in Malila, because many older people, in their late 50s and 60s, don't speak Swahili, so if you preach in Malila they are very happy.'
And a Malila woman said: 'Many things that we didn't learn when they spoke in Swahili, now we will understand. Now everyone will understand, even the elderly who didn't understand.'
Another Malila woman commented: 'When the people hear in their language they will feel very happy, because some people don't know Swahili. They will be very happy, they will feel like they are truly at one with Jesus and not just an onlooker.'
On the day, Majaliwa said, 'Truly, I feel joy, joy, great joy. The word of God will reach people in the right way and cause people to be saved and discipled, because when they heard it in Swahili, sometimes there was stammering, there were difficult words and they couldn't understand them. But I believe that now, in their language that they understand, there will be great change.'
Helen Eaton, who serves with Wycliffe and has contributed to the Malila New Testament as a linguistic consultant, commented: 'Whenever I have been in the Malila language area I have noticed just how vital the language is. People of all ages continue to choose to use Malila instead of Swahili when they are together with others who speak Malila. It's wonderful that the Malila now have the whole New Testament in the language they love to use. I pray that God will use this to transform lives in the Malila community.'
The 70,000 Malila live high in the mountains in the Mbeya Region of Tanzania. Their culture and language are well-preserved and the Malila are proud of their heritage. The Malila language is the dominant language in Malila society, and is spoken widely by children and adults alike.
---
This story was originally written by Jeremy Weightman. Jeremy serves with Wycliffe Bible Translators UK, one of the Malila project's funding partners. The Malila project is currently managed by SIL Tanzania.
Click here for the original story published on Wycliffe.org.uk